Angel's Envy is Kentucky Straight Bourbon Whiskey that has been finished in port pipes, which is unusual for bourbon but common for scotch.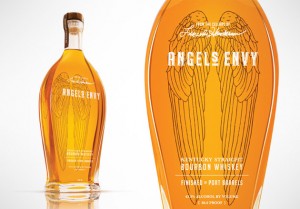 It is the brainchild of Lincoln Henderson. Angel's Envy apparently skirts a line with respect to the arcane legalities of American whiskey labeling, as the Federal Standards of Identity for Bourbon are pretty strict as to what you can call "Bourbon." This is why the bottle clearly indicates how it has been finished, to avoid any miscommunication that would defy those standards.
Age: At least 4 years (probably more like 5-7)
Proof: 86.6°
Price: $46.00
Volume:750mL
Color: Light golden honey. In lightness, almost closer to the color of many scotches than a normal bourbon. I would think that the port pipes would give it a darker color, but no.
Nose: Light and very sweet, with a clear whiff of vanilla, and also a bit of a light floral scent.
Palate: Nice and creamy, with vanilla and dried fruits prominent, especially dried apricot, and a little bit of fig drizzled with honey.
Finish: Glowing, with a bit of pepper and warming spices, medium length.
Overall: I love this whiskey. I've been holding on to this bottle for some time, taking a dram every now and again, and revising the tasting notes in my spreadsheet several times. It's not perfect for every occasion, as it is definitely very sweet and also a bit low proof—you're not going to want to drink this any way but neat. It is a fantastically crafted bourbon, and the peppery finish really clears the sweetness for the palate and gets you ready for the second dram. Hopefully we'll see more innovation tempered by careful craftsmanship of this type in the future. Thank you, Mr. Henderson!
Rating: A