Monthly Archives: March 2013
There is no bad whiskey. There are only some whiskeys that aren't as good as others.
According to the label: Copper Still, Triple Distillation, Virginia Straight Bourbon Whiskey, Small Batch, 90°
Price: $30.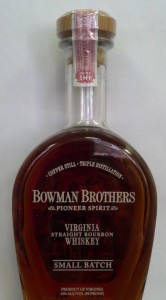 In honor of the recently deceased Truman Cox of the A. Smith Bowman distillery, I picked up a bottle of this today, the lowest level of their small batch bourbons. According to Chuck Cowdery, "The whiskey is distilled at Buffalo Trace in Frankfort. The new make is sent to Virginia where it is distilled a third time and entered into barrels. Aging and bottling is done in Virginia," in the copper pot still mentioned on the label. No age statement, nor does it mention when it was bottled, though the number "12221" printed on the bottle suggest it may be have been bottled 2012-22-1. It does have a cute fake tax stamp on it.
Light tawny honey color. Beautiful sweet nose, fruity and floral, honey and apples. Tastes less sweet than the nose would lead you to believe, with crisp and fresh taste, maybe white grapes and honeydew melon, along with some dried apricot. If there is any problem with this one, it is a slight bitter, astringent note on the finish, which is accompanied by a nice, darker fruit flavor (raisins or dried plums or Beaujolais nouveau).
Overall, an interesting, nice change of pace from what I'm used to in the ryes and bourbons I've been drinking lately. I tend to like a lot of rye spice and wood influence, and there's very little of that here. It is less often I go for the sweeter stuff, though I do occasionally like a really nice wheater (I love Old Weller Antique 107°), and I do like Angel's Envy, which is definitely on the sweet side. This isn't really like any of those. Not sure I've had a bourbon I would describe as crispy before. Let's call it a B+.
What this really does is make me want to try the John J. or the Abraham Bowman.